Happy Loop
Regular price
$59.99
Sale price
$44.99
Unit price
per
Sale
Sold out
Nurture your mind, body, and soul with the Happy Loop's Self-Love edition, your daily gateway to self-care, mindfulness, and positive affirmations. As you turn the lever, the soothing melody "What a wonderful world" fills the air, accompanied by a card that inspires reflection, encourages self-love and promotes well-being.
Estimated delivery: end of November 2023.
Share
View full details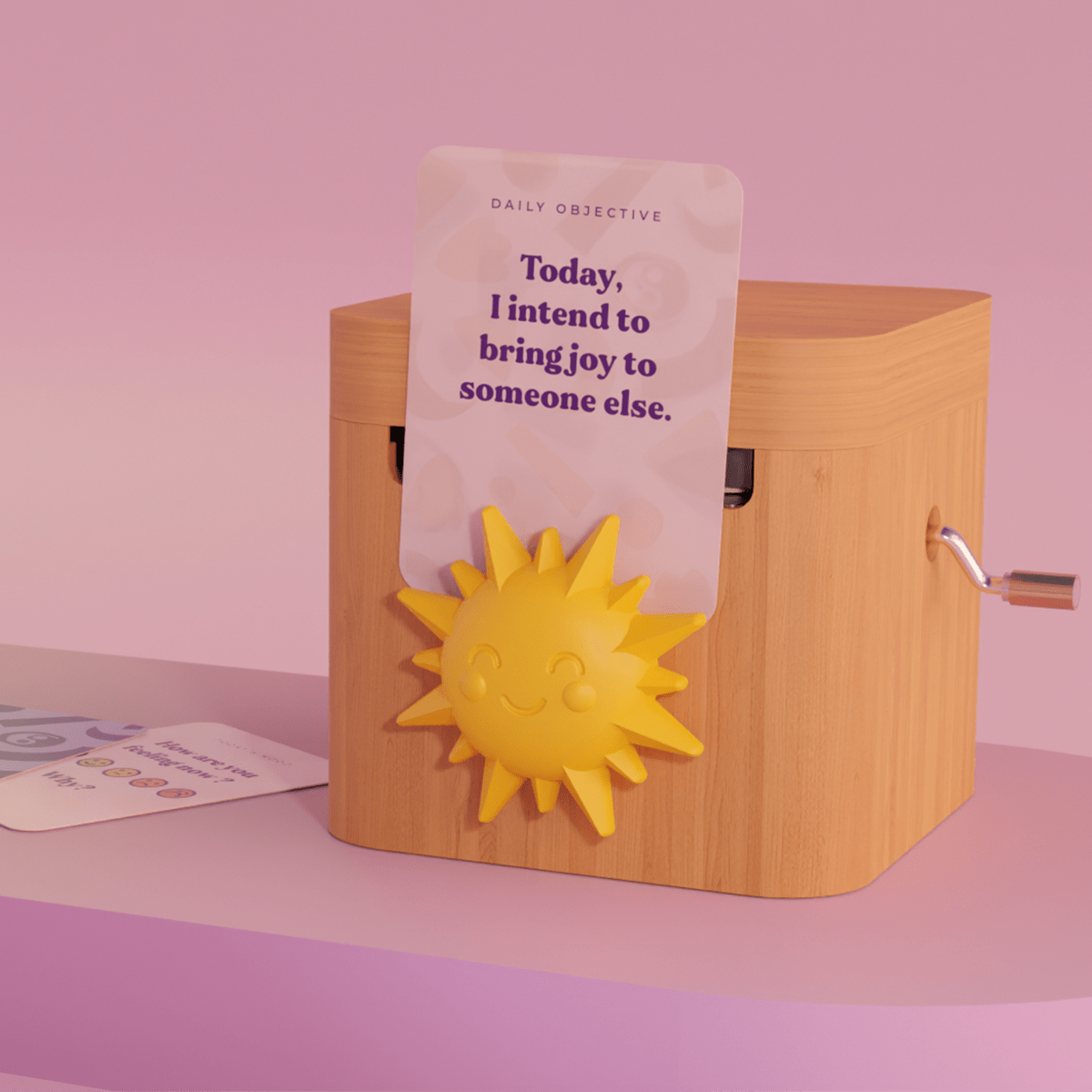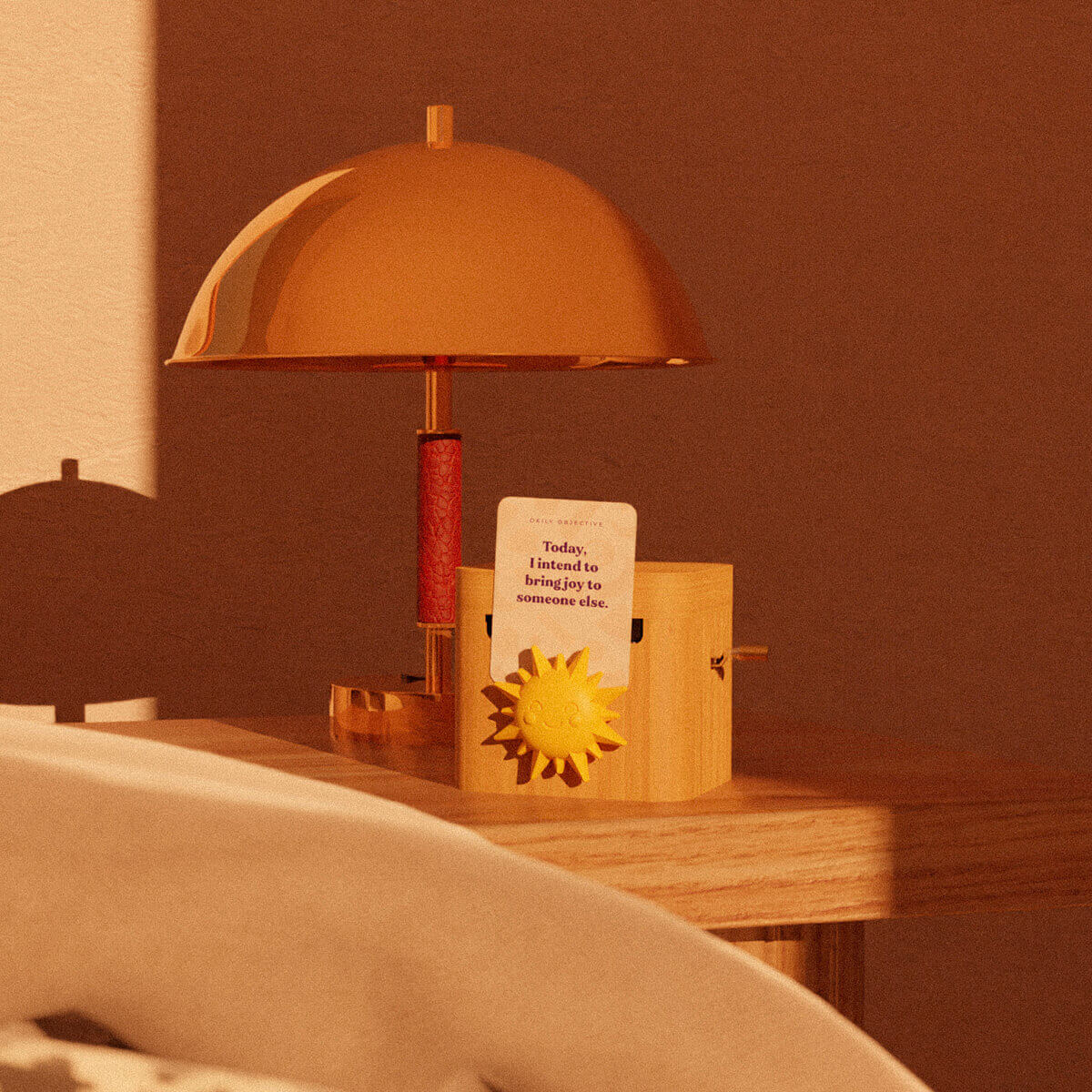 Discover the Magic Inside
Highlights

Magical Card Distributor & Daily Connection: Experience the joy of the Happy Loop as it flawlessly dispenses surprise cards, fostering deeper bonds with yourself. Make Happy Loop a part of your daily routine for magical moments of surprise and connection.
Sustainable and Expandable: Battery-free, the Happy Loop offers endless surprises with refillable card packs available on our website.
Thoughtful Design: With high-quality wood, the Happy Loop adds elegance and charm to any space.
Included with your Happy Loop

With the Starter Pack:

A Happy Loop Wooden Box with its sunny magnet
Built-in Music Box with the melody "What a Wonderful World"
Theme-Specific Card Set: "30 Days of Self-Love"
User Manual and Care Instructions

With the 3 months Pack:

A Happy Loop Self-Love Starter Pack
Built-in Music Box with the melody "What a Wonderful World"
3 differents Self-Love Card Sets.
User Manual and Care Instructions

With the 12 months Pack:

A Happy Loop Self-Love Starter Pack
Built-in Music Box with the melody "What a Wonderful World"
12 differents Self-Love Card Sets.
User Manual and Care Instructions
Details

Material: Wood (box), ABS (spinny)
Dimensions: 3.5x3.5x3.1 in
How does it work?
Turn the Crank ✨

Rotate the lever and activate the magic.

Music and Card 🎶

The music box melody begins as a card pops out.

Read and Display ☀️

Read the heartfelt message and place the card on the Happy Loop.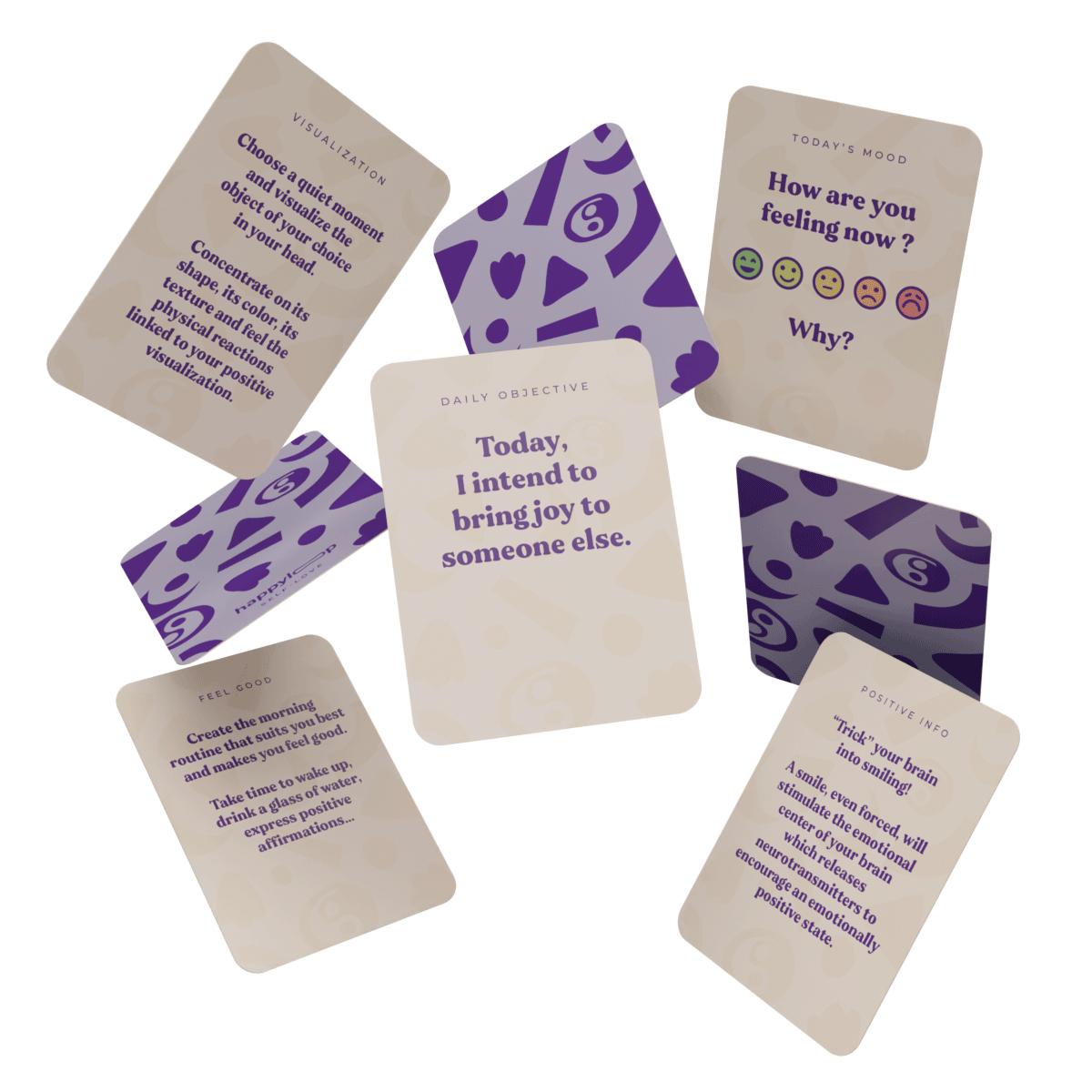 Unlock a World of Self-Love
With the Happy Loop Self-Love, you have a daily companion that promotes personal growth, mindfulness, and positive living.
Choose Happy Loop and unlock a world of self-love, where each day becomes an opportunity to prioritize yourself, nurture your soul, and create a positive impact on your overall happiness and fulfillment.
Pre-order now
Discover the power of cards
The Happy Loop Self-Love comes with a set of carefully curated cards that uplift and empower you on your well-being journey. Each card is thoughtfully crafted to bring positivity and meaning into your daily life. Complementary sets of cards available very soon!
30 Days of Gratitude

30 cards to cultivate a grateful mindset with these daily prompts and exercises. Embrace the power of gratitude and discover the joy in appreciating the simple things in life.

Discover

30 Days of Self-Love Coupons

30 days to treat yourself to self-care and self-love with these feel-good coupons. Pamper yourself, practice self-care rituals, and prioritize your well-being.

Discover

30 Days of Positive Inspiration

30 cards infused with positivity and inspiration. Each card contains an uplifting message, affirmation, or a motivational quote to uplift your spirit.

Discover
Happy Loop FAQs
How does the Happy Loop work?

The Happy Loop is a wooden box that combines music and surprise. By turning the crank, a delightful melody plays, and a card pops out, displaying a heartfelt message. The card can be placed on the front of Happy Loop as a keepsake.
The box can hold a pack of thirty custom-made and lovingly crafted cards. Dozens of refills will be available on our website at the time of launch. It's a simple and enchanting experience that strengthens bonds and spreads happiness.
What is the difference between the three box designs?

Different box designs for different moments. HappyLoop offers three unique box designs: couples, family, and well-being. Each design is tailored to specific occasions, creating a personalized experience that suits your needs. The pack of cards included for free in your order will also depend on the model you have chosen.
During the official launch of the product, you will be able to purchase refills of your choice, regardless of your initial Happy Loop. In fact, our cards have been designed to be compatible with all three initial boxes.
Is Happy Loop suitable for all ages?

Yes! Happy Loop is designed to bring joy to people of all ages. Whether you're surprising a child, expressing love to your partner, or sending self-care reminders to yourself, Happy Loop is a delightful experience for everyone.
Where and how can I store my cards as I draw them?

We will very soon offer storage and display options on our website so that you can keep, collect, and showcase your favorite cards.
How can I pre-order Happy Loop?

Pre-ordering Happy Loop is easy! Simply visit our shop on this website and follow the instructions to reserve your Happy Loop. Hurry, as pre-orders come with special discounts and bonus gifts for a limited time.
When will I receive my Happy Loop?

The delivery date is indicated on the product page. It is currently estimated to be at the end of November 2023.
Do I need to pay right away?

Yes, your order must be paid in order to be validated.